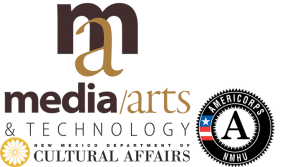 Mart 494, 594
Lauren Addario
New Mexico Highlands University
Trolley Building
505.454-3239
Spring Semester 2017
Thursdays 3:30 – 5:20 Location TBD weekly.
***January 16th MLK Day of Service*** Locations in Albuquerque and Las Vegas 10:00am-3:00pm Log your hours as service.
Week 1 January 19th class at NMHU MLK Event Create a 1-2 minute video with still photos. We'll spend class working on a narrative and reflecting on MLK Day of service. Albuquerque, Santa Fe people, Google Hangout in.
Week 2 January 26th Introduction to project management & guest presentation on Google Hangout
Week 3 February 2 MOSCA visit Santa Fe, New AmeriCorps members joining class

Week 4 February 9 NMHM Segesser Hide Project, behind the scenes
Week 5 February 16 Kerry, communication presentation, class at NMHU

Week 6 February 23 Class in Museum Classroom- Discuss project management tools, pros and cons, are they helping you?

Week 7 February 28th ***Tuesday class *** NMCCV Day at the legislature 9:00am Round House Santa Fe

Week 8  March 7th ***Tuesday class *** individual meetings with Logan and Sam from NMCCV
Midterm Assignment:  Write a one-page self assessment paper on your project management skills. What tools are you using and are those tools working? Have you improved your project management skills? Are you able to implement these tools with your mentor? Discuss any insights you have as a result of using new tools for managing your time.
Week 9  March 16th  – Class in Albuquerque at museum classroom. Prepare for Service Summit- present to the class for feedback and critique. Turn in self assessment papers on your project management skills.
Week 10  March 23-24th NMCCV Winter Service Summit in Albuquerque.

Week 11  *** Friday Class *** Cesar Chavez Day, March 31st.  

Week 12  April 6th TBD 
Week 13  April 13th Discussion, future plans and summer schedule, Google Hangout
Week 14  April 20th  No Class since you never had a spring break!

Week 15  April 27th TBD

Week 16  May 4th FINAL
Reflection papers due to me via email by 5:00 pm Friday, May 12th

Reflect on the following 4 topics:
1).  Describe the activities you've been doing as an AmeriCorps intern.
2). Discuss some of the obstacles or difficulties you're facing (if any) in completing your ongoing projects.
3). Describe the successes and milestones you've reached as an AmeriCorps intern.
4). Discuss your expectations of the experience and compare them to what is actually happening. Is your AmeriCorps internship exceeding your expectations or is it falling short?