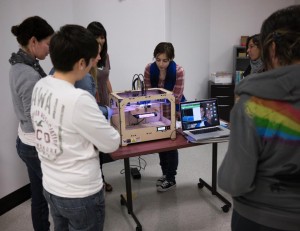 Here we are playing with the 3-D printer in the museum classroom
Do you think all classrooms are a row of desks facing a Smartboard? Do you think you have to wait to get great experience and an excellent portfolio? Think again! Now you can take hands-on courses in mobile application development, game development, physical computing, web applications, and 3D design and printing in our satellite classroom at the Museum of Natural History & Science in Albuquerque. A limited number of tuition fee waivers are available each semester for eligible employees of the New Mexico Department of Cultural Affairs.
Call 505.454.3588 or click here Museum Classroom to see a list of available courses.