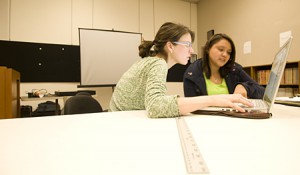 The department of Media Arts & Technology seeks to inspire students to work creatively and collaboratively towards the goal of contributing to our own communities. Collaboration, experimentation, and a willingness to push the boundaries of where art and technology intersect.
Students enrolled in these majors are eligible to pursue a cultural technology focus by taking the following elective courses:
MART 326 Multimedia Project Management (3)
MART 495 Exhibition Design (3)
MART 498 Professional Internship (3)
Electives: 6 credit hours of upper division 300-400 level courses.
Total: 15 hours
A certificate will be awarded by the New Mexico Department of Cultural Affairs upon completion of these classes.